Director of Community Outreach & Advancement, Tina Lindberg, points out why YOU may want to take part in a high school internship.
In the Student Health 101 April edition, there is a great article on high school internships. The article points out how classroom experiences can often prove difficult in relating to the world outside of school. The benefits of a high school internship can really make up for that and provide real world experiences to help you through the next several years.
Internships provide students an opportunity to explore different career options, while enabling students to gain workplace skills regardless of what career they choose to pursue. Some students know exactly what they want to do, while others are not sure. Participating in an internship can really provide reassurance and some experience for those who are sure what they want to pursue. For others, it is a chance to explore and see where their interests and passions may be. For everyone, it is a chance to gain some real world, professional experience-and employers will be looking for that!
Internships also provide the opportunity to do some networking with local professionals. Often these professional serve as references and resources. These internship experiences give a real highlight to both job and college applications as well.
Last summer, I read an article in the Boston Globe that reported on the lack of college student graduates who are ready for the workforce upon graduating college. Graduates are struggling to launch a career as they have no previous work skills. Having an opportunity to intern as early as high school, is an essential contributor to helping students obtain experience and develop workplace skills to prepare them for the workforce. Employers may be more likely to hire someone who has completed  an internship, someone with previous hands on experience and knowledge within the field.
At IACS, students are eligible to participate in the IACS Internship Program their junior or senior year. For the past seven years, we have offered internships on Wednesday afternoons from 1 PM to 5 PM, (strategically when we typically have half days). We have established partnerships with over 50 organizations!
A Way to Allow More Students Opportunity!:
With the half day Wednesday structure, we have realized it is challenging and often presents scheduling conflicts for those who participate in other extracurriculars/athletics after school to do both an internship and the extracurricular/athletics. Therefore, in the fall of 2017 we will be adding a 2nd option to the structure to our program making it available to a more diverse group of students. It will continue to be available on Wednesdays from 1 to 5 PM, but we will also offer a second option on Wednesdays and Fridays from 1 to 3 PM.  Regardless of the option, students will still get four hours a week from their internship experience.
My Experience: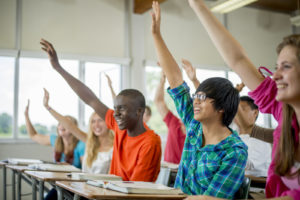 I really hope that students take advantage of this opportunity! When I was in high school, an internship wasn't an option. I had to wait till college before getting some real world experience and exploring a career I thought I wanted. It wasn't until I finished my undergraduate work and finally did a college internship that I realized everything I had been studying and working towards was not a fit for me! After completing my internship and taking some time to explore other options, I went back to school for my graduate degree in School Administration, where I am now.  I wouldn't say any of my schooling was a waste, but had I completed  an internship earlier, I may have found my passion and interests a bit sooner!